Greetings Lucid Family!
If you want to see Lucidity Festival continue, keep reading…
We feel so blessed to be able to share togetherness, playfulness, growing, and dreaming with you over the last 10 years. This last festival, The Great Synthesis, was one of the highest-vibe, good-feeling gatherings we've had with you yet.
And, behind the scenes, it was one of the most difficult festivals that our independent community-based production company has ever put on. We were challenged by a number of factors, most of which were beyond our control.

Please watch the following video as co-founder Jonah Haas explains how we find ourselves at a crossroads for Lucidity Festival and its future.
The Great Synthesis
April 7 – 9, 2023
Live Oak Campground, Santa Barbara, CA
---
Celebrating 10 Years
Lucidity is an open-source transformational arts and music festival. For 10 years creative dreamers have gathered amongst the oaks in the hills of Santa Barbara, CA to form a powerful container for artistic, intellectual and somatic expression.
We call it open-source because we co-create this festival experience with YOU! In this 10th year, we invite you to come play with us, call together your star family, spark a spontaneous flash mob, embody a character from your dreams, be silly and wild and free! Come write a new chapter with us as we celebrate…
10 Years of
foot stomping Music, compelling gallery, installation and performance Art,
expansive and inspirational Workshops.
sustainable, organic, local Food,
and donation based Healing services.
10 Years of
Family-forward programming within a safe container, held with love, set with Intention by a Multi-Cultural Elders' Council for Peace.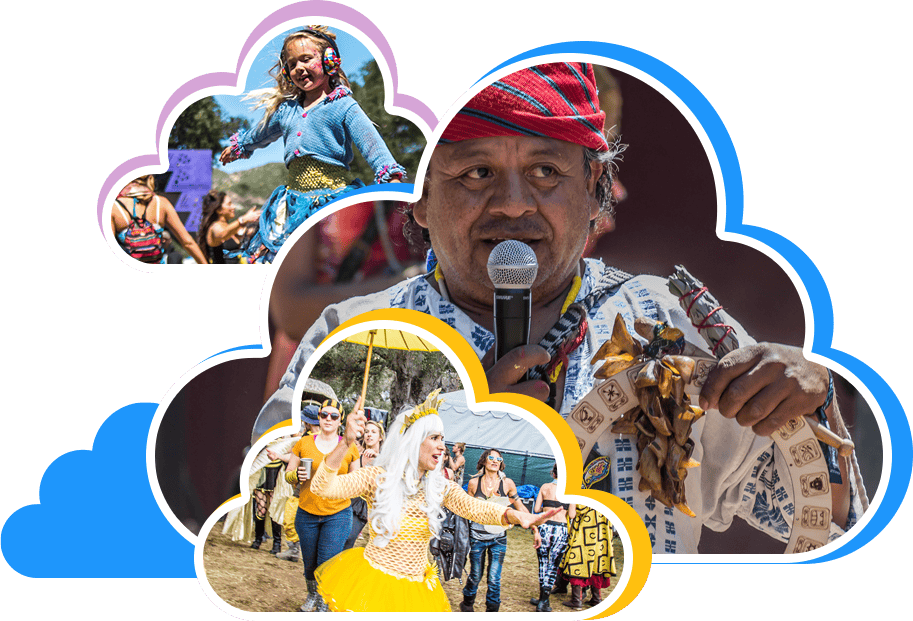 10 Years of
immersive storytelling, gamified experiences, and a deeper Mythic significance to all you encounter.
Zephyr's Awakening
Meet Zephyr, the elemental avatar of Air, a shapeshifting time-traveling magician from the Air Realm. They delight in the quickening and slowing of time, and can easily jump through the Auroras connecting the many realms of the Lucid Multiverse. Whether we find Zephyr riding on lightning or on the wings of a great golden eagle, or simply enjoying the sonic pleasures of the festival, we know that they always have something magical brewing. Fortunately, their trixter cauldron stirring tends to have the best interests of all of us in mind.

This 10th chapter of the Lucidity Story, The Great Synthesis, introduces us to Zephyr in the same way as last year's Regeneration Earth, introduced us to Leaf, 2018's chapter Moon's Eye View introduced us to River, and Rising Dawn before that introduced us to Dawn. Air, Earth, Water, and Fire… in The Great Synthesis, the elemental avatars are coming together to complete a whole, along with Luci the elemental avatar of Spirit.

What will happen now that they are united? You'll have to come to Lucidity Festival to find out, where you'll get to co-create the next chapter with us!